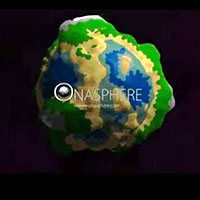 Last year Baboon Torture Division recorded the soundtrack to an arcade game called called Onasphere. The concept was basically Space Invaders on a spherical battlefield.
The instrumental soundtrack has an appropriately 1980's flavour with thick synth lines, understated guitar licks, and sparkly reverb. Like the graphics, the sounds are sterile, artificial, spacey, and have an overall light feel. Baboon Torture Division's signature weird noises and dense percussion are at an all time low here. This is the 1980's softcore Baboon Torture Division album that nobody asked for.
Each track is a seamless loop. For an ideal listening experience, loop each song 3 times, bringing the total album duration to about 45 minutes.

Licensed owners of the full game only can unlock the full length album feature.